America's Best Sprinkler
THE PRN/LittleValve Combo
Combining Toro's® Precision Rotating Nozzle
& Valvette Systems' Patented In-Stem Flow Regulation (IFR)
=   The Best Sprinkler Ever Made – Rotary Or Spray
The Ultimate in WATER SAVING SPRINKLERS
No other Sprinkler is Comparable with  
In-stem Flow Regulation
Distance Range: 20 – 28 feet down to 18 inches
Arc range: 45° – 270°
The flexibility, efficiency and water savings of Toro's PRN when joined with Little Tuffys and  LittleValve sprinkler parts is best described in the videos plus the pictures you'll see in the following 11 sub-pages
LittleValves make every nozzle and every sprinkler on the market work better but allow Toro's Precision Rotating Nozzle (PRN) to do things that no other nozzle can do.  In fact, PRNs with LittleValve parts can replace every nozzle in your landscape except
for side, corner and center strips, (the nozzles used in long, narrow planter areas.)
Valvette Systems is the worldwide leader in water conservation sprinklers and parts.
The ultimate in high-efficiency irrigation.
In commercial installations, both PRNs and LittleValve parts are rebatable under
the Southern California Metropolitan Water District program.

                                                                                                                              Click here for shortcut to
When Combining the PRN with LittleValves, you have the most ACCURATE, EFFICIENT and FLEXIBLE sprinkler available anywhere in the World. 
WHY?
Because you have a completely controllable radius Distance range  from 20 ft – 26 ft  depending on pressure,
that can be brought all the way down to 18 inches – regardless of pressure.
AND
You have an Arc range of 45° – 270°, the Maximum Arc Range of all Rotating Nozzles on the Market today.
No other sprinkler – spray or rotary – handles curvy areas  like the PRN/LittleValve Combo.
and certainly
No Sprinkler Anywhere in the World has a Distance Range of 1½ feet up to 20 – 26 feet.
With the PRN/LittleValve combo sprinkler, you need to buy only the 2 models of PRN nozzles – – Adjustable and Full Circle.  That's it!
Now you can stop buying and keeping around all those different bags of nozzles that drive you nuts.   Get rid of them!
You do not need any of the 5 – 6 different radius nozzles with all their many different arc patterns, i.e. quarter circles, half circles, etc. etc.
You don't need the 5 – 7 different size adjustable nozzles offered by all the manufacturers, and you don't need the other various arc and distance rotary nozzles available.
Side strip Nozzles
NOTE: For long, narrow areas, you can mix Toro's PSN side strips and left/right corner strips with PRN nozzles because the flow rates are similar.  [PSN = Precision Spray Nozzles]
When using side strip and corner strip nozzles at short distances, i.e. 3′ – 6′, you can also mix Hunter's SS530, LCS515 and RCS515 into PRN systems.
PRESENTING THE PRN AT A RADIUS OF 18 INCHES
Start the video to the right and watch the radius pattern with the longest PRN stream not exceeding 18 inches in its distance.
There is no standard Radius Nozzle on the Planet that can Maintain a distance of 18 inches except the PRN when connected to any Little Valve sprinkler part, a Little Tuffy pop-up sprinkler, or a Toro 570 pop-up with Precision Valve.
NOTE:  The PRN's 18 inch distance was set on April 5, 2013.  If this video is still up when you are watching it, that means the distance pattern has not changed since that date.
This 1 1/2 ft "distance project" was undertaken at the request of a certain customer in Northern California who has a long planter with an 18″ width.  Other nozzles were tried and did not perform satisfactorily.  At this time, it appears that the PRN/LittleValve Combo is the answer.
PRN at 14 inches
We also are familiar with a project installed in the Summer of 2013 where the PRN radius distance has stayed at 14 inches.  See Woodland Hills residence on sub-page 7 – about 1 minute into the video.
PRN/LittleValve Combo – Highlights and Pictures
Main Entryway Planter into Calabasas City Hall
12″ Toro Pop-up Sprinklers changed out with LittleValve
12″ Toro replacement pop-up stems – Model no. POP1220
Phenomenal Edge Control
Main Planter at Entryway
to City Hall
The video above is looking from North  to South.
The video to the left is looking from South to North.
In both videos and in the pictures below, you see remnants of water on the top of  the curb but virtually no water in the street.
Even at curved areas, overspraying is not evident.
NOTE: After the change-out to PRN/LittleValve Combos, the 6 sprinklers located down the center of the planter were no longer needed and were shut off.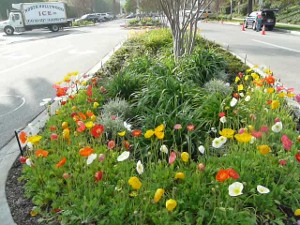 The main entry planter is 15 feet wide.
18 ft. Diameter Circular Planter just South of Main Entryway Planter 
Note: No water in the adjacent street with just a very small amount on face of curb
AND
Notice the flowers right against the inside of the curb receiving ample water

NOTE: After the change-out to PRN/LittleValve Combos, all 4 sprinklers surrounding
the tree in the center of the planter were no longer needed and were shut off.
 Two Videos of the Circular Planter that is Seen Below in the Middle
2-Part Video
The Other 3 Planters in Entryway Area to Calabasas City Hall
Main Entry Side Planter- East Side
After changing out to PRN/LV combos, 2 sprinklers were shut off. Notice in the video that there is a little water on the top of the curbs but how completely dry the street is
Main Entry Side Planter- West Side
2-part Video
NOTE: This video shows 2 PSN side strips mixed with PRNs.
Look carefully: After changing out to PRN/LV Combos, 5 sprinklers were able to be shut off (2 visible here.)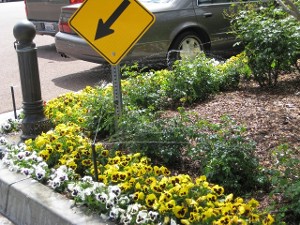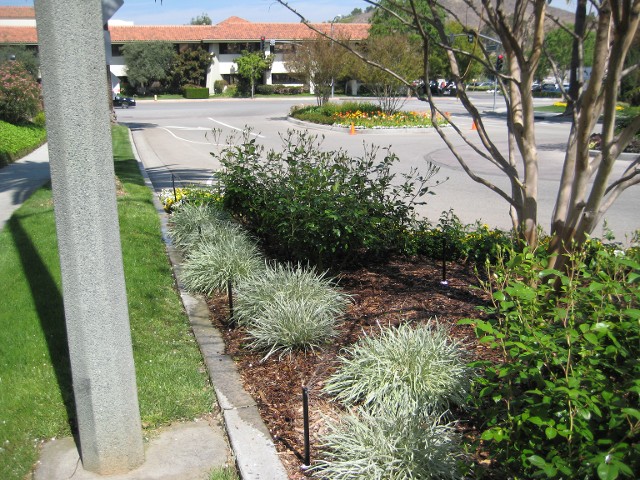 Video
Radius distance of PRNs at narrow end is from 3 ft to 4 ft.
NOTE: The small amount of water on street is due solely to a short surge when the sprinklers are first turned on.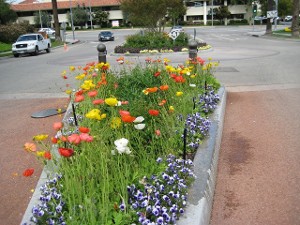 Two 9′ X 12′ Videos and Other Photos of Oval Planter Areas in Median Strip near  South End of Parkway Calabasas, City of Calabasas, CA
Oval sprinklers were 12″ Toro Pop-up Sprinklers changed out with LittleValve
12″ Toro replacement pop-up stems – Model no. POP1220
Video – Southerlymost Oval Planter Area
Video – Northerlymost Oval Planter Area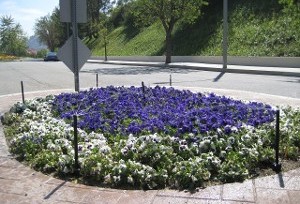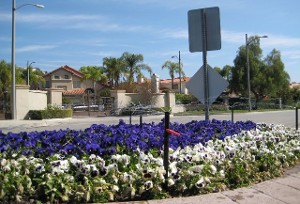 NOTE: A month after the videos were taken, the center sprinkler in both ovals was shut off. Both photos below are of the northerlymost oval
a.     Stay-Green Landscape Co. Santa Clarita, CA
The premier landscape company of the Santa Clarita Valley area employing PRN/LittleValve Combo sprinklers in the interests of Water Conservation 
12″ Rain Bird Pop-up Sprinklers changed out with LittleValve 
12″ Rain Bird replacement pop-up stems – Model no. POP1210  
Video Before Change-out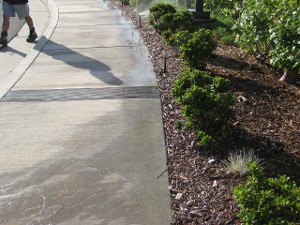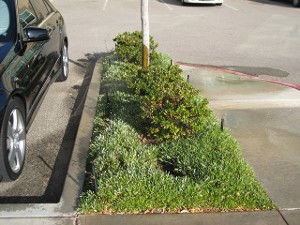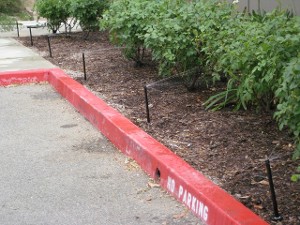 b.     City of Tustin, CA Median Strip on Jamboree Road 
6″ Rain Bird Pop-up Sprinklers changed out with LittleValve 
6″ Rain Bird replacement pop-up stems – Model no. POP610  
Video Before Change-out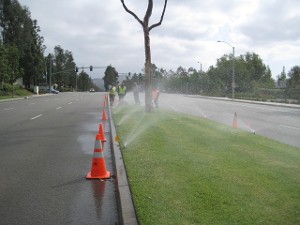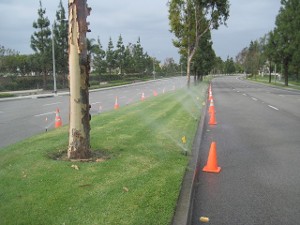 Video After Change-out
Note: Water on street is solely from adjusting sprinklers prior to shooting video.
Cal-Trans – District 11 Maintenance yard, San Diego, CA PRN/LittleValve Change-out – June 7, 2013
NOTE:  Static pressure at this location is 135 p.s.i.
All sprinklers were male shrub adapters with female spray nozzles attached to riser pipes, which were
extended with ordinary 1/2″ couplings.  The change-out involved replacing the ordinary couplings with
LittleValve Couplings – Model no. CP050 and replacing the nozzles with Precision Rotary Nozzles.
Video taken prior to Change-out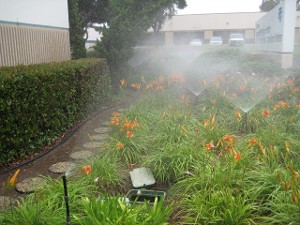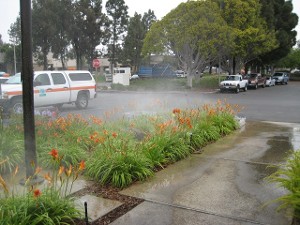 Video taken After Change-out
NOTE:  Water on sidewalk and in parking lot is left over from adjusting sprinklers after change-out along with residual water from what you see above in "Before Change-out" video and pictures.
Residential Videos
The two residences on this Page 7 demonstrate the freedom LittleValve sprinkler parts give to professional landscapers and homeowners by gaining the ability to combine Precision Rotary Nozzles (PRN) with side strip nozzles – Toro's PSN 4 x 30 side strip for larger areas and Hunter's SS530 for smaller, tighter areas. Note also how helpful is the vast flexibility in distance ranges with the PRN/LittleValve Combo with its range of 20′ – 26′ down to 14 inches.
a.    Woodland Hills Residence
PRN/LittleValve Change-Out – July, 2013
 Avery Apartments on Albers Street, North Hollywood, CA Nozzle Change-out Comparison on existing Little Tuffy Pop-ups – February 2014
DISCUSSION: This very large apartment building is brand new with another manufacturer's sprinklers originally specified. When it came time to install the sprinklers, because of the water-saving benefits of LittleValve parts and being listed on the So. Calif. Metropolitan Water District's (MWD) rebate list, the landscape architect (L.A.) changed the specs to Little Tuffys, which feature LittleValve pop-up riser stems. However, the contractor nor the city knew that when using LittleValve parts, one typically should use only 15′ spray nozzles or rotary nozzles whose radius distances can be reduced down to less than 6 – 8 feet. Hence, the job was installed with standard size nozzles.
The 2 videos below show Little Tuffys with their tremendous flexibility and distance ranges that the LittleValve provides, comparing Toro's Precision Rotating Nozzle (PRN) against standard radius spray nozzles. The videos also compare the use of Toro's Precision SPRAY Nozzle side strips (PSN 4 X 30) – for large areas – along with Hunter's SS530 side strips (5 X 30) – for smaller areas – against standard 4 X 30 side strips and smaller radius nozzles.
NOTE:  Nozzle changeout performed in cooperation with Landscape Development, Inc., Valencia, CA.
1st Video: Little Tuffy pop-ups with standard nozzles.
2nd Video: Little Tuffy pop-ups with Toro PRNs and PSN side strips, Hunter 5 X 30 sidestrips, and Rain Bird 5-CST-B center strips.
NOTE:  This change-out resulted in the elimination of 8 of the original 44 sprinklers as well as almost complete elimination of any water on the adjacent walkways and no water lost to misting/fogging due to high pressure.
Park 'N Ride Facility in the City of Thousand Oaks, California
DISCUSSION: This parking facility is located on the east side of the 23 Freeway on Janss Road in Thousand Oaks, CA. The entryway divides the parking area into an east side and a west side.  The east side was re-landscaped with a new sprinkler system approximately 6 months earlier using standard, non-LittleValve 12″ pop-up sprinklers with standard spray nozzles in the narrow areas and large MP Rotator nozzles (Model 3000) in the wide areas.  The west side was left vacant until a later date when new landscaping and new sprinklers were installed.  The new sprinklers are comprised of LittleValve sprinkler parts and Precision Rotating Nozzles (PRNs.)  The east side irrigation was not touched during the west side re-landscaping process.
The prior irrigation in both the east and west sides were 'Drip" systems, hence pressure and volume in both areas was and continues to be somewhat restricted.
1st Video: The non-LittleValve area, shows the existing irrigation on the East side.
West Valley Christian Church & School West Hills, California
Change-out took place in June of 2015.  No sprinklers were added or moved.  Most pop-up sprinklers were Rain Bird 1806s and the pop-up stems only were changed out with LittleValve 6″ Rain Bird replacement stems – (model POP610.)  Over half of the sprinklers were above-grade shrub-adapter types on Schedule 80 – PVC risers.  These were fitted with LittleValve 1/2″ Couplings – (model CP050)
All sprinklers then received Toro's Precision Rotating Nozzles (PRN) for radius-area nozzles
and Toro's Precision Spray Nozzles (PSN) side strips for long, narrow areas.
The results of this change-out are finalized in the Water Savings Reports
section of the Test Data & Water Savings Report tab.
Other PRN/LittleValve Combo pictures
PRN watering at 6-foot radius.
Radius was set on April 17, 2012 and has
never been adjusted.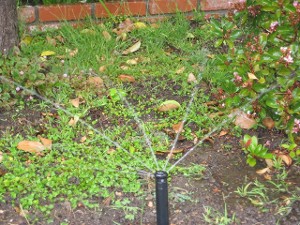 Notice how low is the trajectory of the PRN.
Lowest trajectory of all rotating nozzles, which
translates into having the most wind resistance
of any rotary on the market.